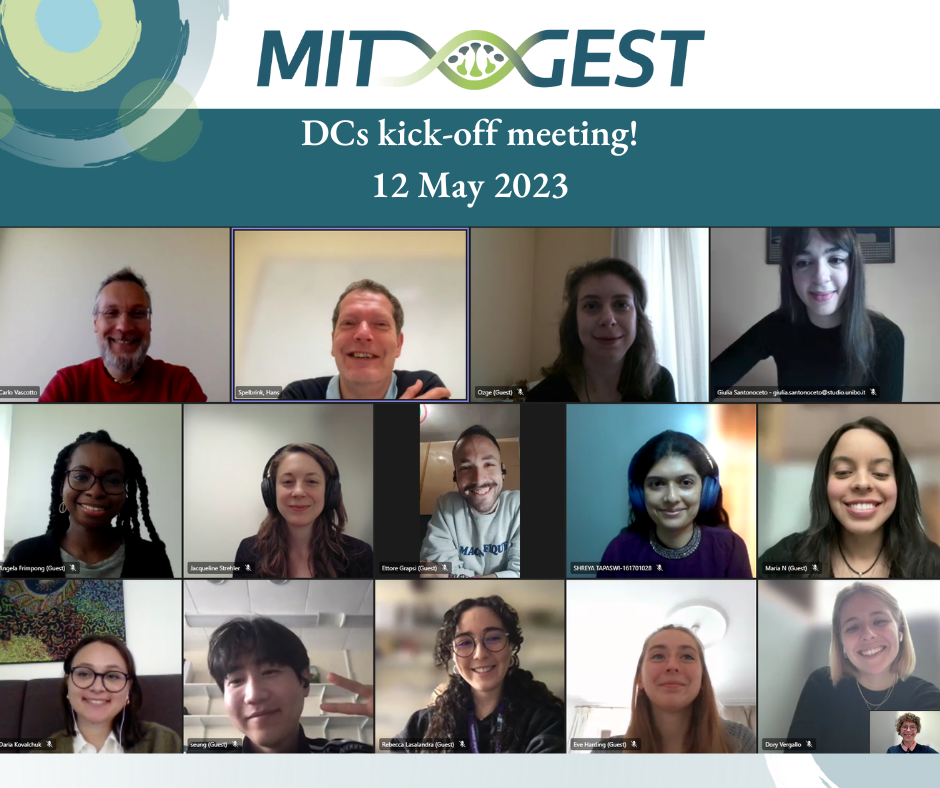 ---
We are thrilled to announce the successful launch of the first online meeting of the doctoral candidates (DCs) selected for the MITGEST project!
Funded within the European Union's (EU) framework of the Marie Skłodowska-Curie Actions (MSCA), MITGEST represents a groundbreaking initiative that brings together world-class academic excellence in mtDNA maintenance and expression with private sector expertise in nucleic acid chemistry and mitochondrial therapeutics development.
On 12th May, eleven talented individuals gathered virtually to kickstart their journey as part of this groundbreaking initiative. The meeting served as an informative and engaging platform, allowing the candidates to familiarise themselves with the project, connect with fellow researchers, and gain a comprehensive understanding of the training activities ahead.
---
The project coordinator, Dr. Carlo Vascotto from the International Institute of Molecular Mechanisms and Machines (IMol PAS) kicked off the meeting with an illuminating introduction to MITGEST, shedding light on its core objectives and training activities as well as highlighting the significance of the research being conducted. The DCs were introduced to the wide range of topics that would be explored throughout their research journey, sparking excitement and curiosity about the groundbreaking discoveries they would contribute to the field. The DCs were further acquainted with the project's scientific scope, which encompasses diverse areas such as mtDNA maintenance, expression, RNA and DNA metabolism in mitochondria and mitochondrial dysfunction. This comprehensive understanding will enable DCs to explore cutting-edge research avenues and contribute to groundbreaking discoveries.
In addition to the project-specific content, the meeting also acquainted the DCs with the specifics of the EU's MSCA program. This comprehensive overview delivered by Jacqueline Strehler from accelopment equipped the researchers with valuable insights into the funding and support provided by the granting authority, empowering them to make the most of this exceptional opportunity.
A significant emphasis was also placed on the rules of communication and dissemination within research projects funded under the MSCA. This crucial aspect tackled by Joanna Plesniak from accelopment ensured that the candidates were well-versed in the best practices of sharing their findings, promoting collaboration, and making a tangible impact on society through effective dissemination strategies.
---
Join MITGEST DCs on their journey to revolutionize the understanding and treatment of mitochondrial dysfunction. Stay tuned and visit soon to learn more about our DCs and their research projects.